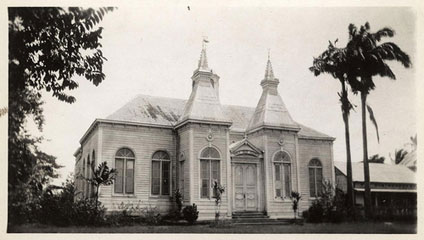 Welcome to the official website of the Evangelical Lutheran Church in Guyana (ELCG)
Left: Picture of the old Ebenezer Lutheran Church Building - New Amsterdam, Berbice

The Evangelical Lutheran Church in Guyana (ELCG) is a national communion of Christian Congregations in the Lutheran tradition which was founded on the 15 th October 1743. On this date a small group of Dutch colonists assembled at the home of Lodewyk Abbensettes to plant a church of the unaltered Augsburg Confession. This event took place at Fort Nassau , some 85 miles up the Berbice River . Nine years after the planting of the church, the congregation at Fort Nassau received its first pastor on 17 th October 1752. He was Johan Henrik Faerkenius.
Even though the church was established in 1743 it was not until around 1752 that the first sanctuary was built. By the 1790s the Dutch Colony of New Amsterdam at Fort Nassau was relocated to the present day New Amsterdam location. The Lutherans applied for land and set up the church on the present site of the Ebenezer Lutheran Church . It is said that the original church building at Fort Nassau was shipped out on rafts and relocated in the New Amsterdam.
Read More
Our Mission
The
Evangelical Lutheran Church in Guyana
lives to be the instrument of the Holy Spirit in obedience to the commission of its Lord, and specifically:
To proclaim the Gospel through Word and Sacraments; to relate that Gospel to people's need in every situation; and to extend the Ministry of the Gospel to all the world.
To gather into fellowship those who respond in faith to the call of the Gospel, and to nurture them in the faith through that fellowship.
To affirm its unity in the true faith and to give outward expression to that unity.
To safeguard the pure preaching of the Word of God and the right administration of the Sacraments in all its congregations in conformity with its Confession of Faith.
To participate in ecumenical Christian activities, contributing its witness and work and co-operating with other Churches which confess God the Father, Son, and Holy Spirit.